​The evolution of spinal surgery - seminar in No...
​The evolution of spinal surgery - seminar in Novosibirsk.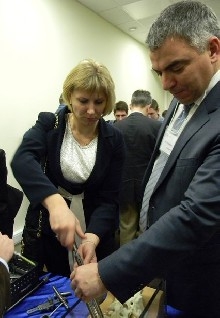 Seminar "Evolution of spinal surgery. Traditional surgery and advanced technology" supported by DePuy Institute took place on 21-22 November 2012 in Novosibirsk. From the Moscow Spinal Center in this seminar participated Irina Abramova, neurosurgeon, and resident Vladimir Gulyy. The seminar was attended by famous spinal surgeons from various regions of Russia. The main goal of this seminar was to determine the best ways of surgical treatment and use of modern high-tech devices and tools for spinal surgery. The course covered diagnosis and treatment of degenerative diseases of the lumbar spine, surgical treatment of unstable thoracic fractures, traumatic injuries of the spine and spinal cord in children, fundamental aspects of vertebral pathologies, as well as minimally invasive surgery in the treatment of spinal injuries.
In addition to lectures, surgeons took part in hands-on training on fracture fixation, as well as minimally invasive surgery using innovative technologies Viper 2 and Viper 3D. Viper is an intuitive, adaptive to various techniques and approaches percutaneous transpedicular fixation system, which gives surgeons the confidence and control of the situation, as well as saves time in the treatment of various pathologies.
In this training, participants used high viscosity cement Confidence, providing new opportunities for the treatment of compression fractures of the spine, thanks to a paste consistency and the absence of liquid phase after mixing.
The experience and skills of Irina Abramova and Vladimir Gulyy were appreciated by all participants.