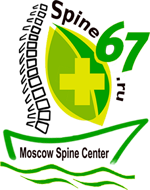 Spinal Centre in Moscow after modernization can ...
Spinal Centre in Moscow after modernization can treat even the most complicated patients



At City Hospital No. 67 after the extensive equipment upgrades, surgeons can perform operations on the spine of almost any complexity. Thanks to the modernization doctors put patients on their feet in record time.

About five years Georgiy Pashkov suffered from back and leg pain due to a herniated spine, and he practically could not walk. After a very complex operation he immediately felt better, and now, he said, he can "crawl."

A medical miracle happened in the Spinal Centre. Incredibly fast rehabilitation after the spinal surgery became a reality thanks to the most advanced technologies.

"Our operating room has several components that do not exist in other ORs - surgical robot, navigation station, and a portable computer tomograph, as well as unique carbon operating table, and all this is integrated into one functional system," - says the hospital director Andrey Skoda.

Modern tomograph calculates the motion with an accuracy of one micron in such a complex procedure, involving nerve roots.

"All the data are transferred to the "brains "of the surgical robot, and it determines with high accuracy at which point set implants, and how to avoid complications," - explains Dmitry Dzukaev, head of Spinal Center.

Since the modernization of City Hospital No. 67, robots have appeared not only in the operating room but also in laboratories. "Smart machines" sort samples and perform all necessary tests. About 250 tests can be done simultaneously.

"In 40 minutes we give all the answers, already verified, and the doctor can see them electronically on his/her desktop," - says senior technician Svetlana Larina.

The hospital recently opened a new microbiological laboratory. Previously, almost all tests were performed manually, and now everything is automated, including the movement of Petri dishes to incubators.

All this reduces the time and allows to start tests early and quickly pick up an antibiotic for a particular patient. Recent innovations allowed Hospital No. 67 acquire the status of a modern medical center. And now it receives patients not only from different districts of Moscow but from other Russian regions as well as from abroad.