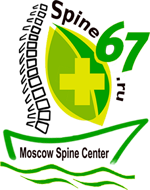 Swimming pool
Swimming pool
Swimming pool - a bright, well-ventilated area, which includes three pools: large (for group physiotherapy), medium (for patients with decreased mobility) and small (for the underwater spine traction in lumbosacral osteochondrosis).

All three pools have recirculation water mechanism. The water is disinfected with chlorine and ultraviolet. Three automatic stations control the concentration of residual chlorine and water pH.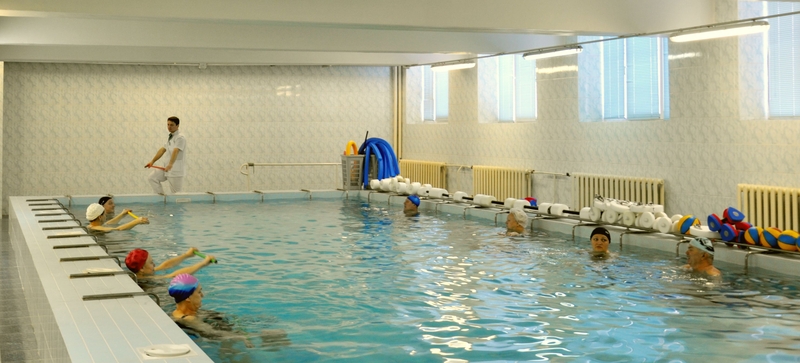 Photo: Large pool, the size of 13x5 m, depth 1.4 to 1.6 m.
The large pool has universal underwater training complex. It takes only 2 m2 the pool area and allows for all the key types of training and rehabilitation in water for two people at the same time. This pool also has handrails around the perimeter, which patients use as a support during exercise.

Motor functions in the water are close to the conditions of zero-gravity, and this fact is used to activate the early postoperative patients (where this is possible). The active movement in the warm water, especially in the peripheral limbs, improve venous outflow, lymph circulation, reduce post-traumatic edema thanks to the positive influence of muscle contractions on the hemodynamic. The beneficial effects of the hydrostatic forces on blood vessels are increasing due to a combination of hydrostatic and thermal effect. Still position on the water surface helps to achieve good muscle relaxation.

Sessions in swimming pool include three groups of physical exercises in the water::
free movement;
pulling exercises at the rim;
sliding and swimming in the water.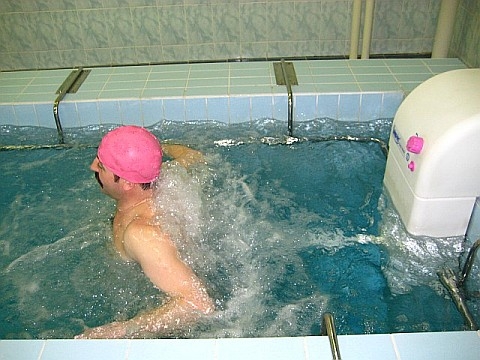 Photo: Medium pool, the size of 12x2 m, depth 1.4 to 1.7 m.
The medium pool has countercurrent system with adjustable flow power and rails on the pool perimeter, which help patients keep upright. The lifting device helps patients get into the water and back again without any effort.

Underwater spine traction is performed primarily for the removal of pain resulting from degenerative changes in the spine discs and joints. Spinal traction results in the "unloading" the intervertebral discs, increase diastasis between the articular surfaces of the intervertebral joints, removing compression of the spinal nerves. In addition to a low gravity in water, warm (35°C) water promotes muscle relaxation, thereby increasing soft tissues compliance to external influence. Therefore, spine stretching in water is more efficient than in normal conditions. Stretching facilitates repositioning of the disc nucleus and creates conditions for "extraction" of the jelly-like nucleus and its central arrangement.

Contraindications for underwater traction:
spondylolisthesis;
spondylosis;
senile osteoporosis;
severe pain at rest;
cardiovascular condition.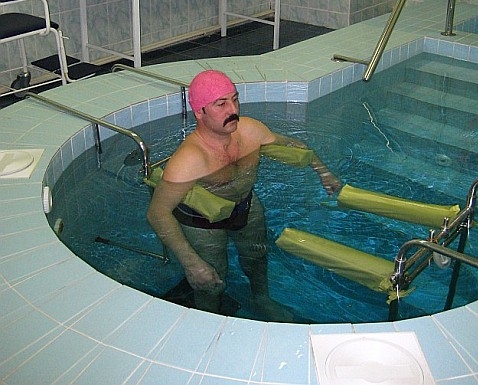 Photo: Small pool - round, diameter 2 m and a depth of 2.2 m.

The small pool serves for the underwater traction on the lumbar spine.

The water temperature in the swimming pool is:
large pool: 32–33ºС;
medium pool: 33–34ºС;
small bowl: 35–36ºС.
Sessions are provided on individual technique. The duration of sessions ranges from 15 to 45 minutes.